This highly functional serum is formulated with a natural essential oil process using the oil drop technology to help the skin absorb it more quickly and improve skin condition. It rejuvenates the skin via deep moisturizing.

Oat seed: Has anti-inflammatory effects and gathers moisture to provide deep moisturization
Marigold Flowers: Has anti-oxidant effects, makes skin look soft and fair
Bay Leaves: Provides calming and purifying effects on sensitive skin + astringent effects
Olives: Rich in unsaturated fatty acids, it calms skin inflammation + natural moisturizer that prevents dryness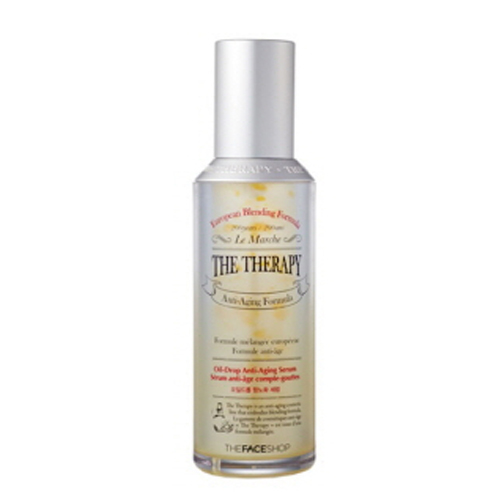 Features
1. Spreads on the skin softly & absorbed in the skin fast
& makes the skin coated by natural oil/moisture layers without stickiness.
2. Blending Milk method containing Natural oil & butter takes care of skin moistly & confortably
by wrapping the surface of skin.
3. Marke Hand Made Blending formula which has Oats seed, Marigold flower, laurel tree leaf
, olive tree leaf was applied for anti- aging effect
How to use
Apply proper amount to the palms & spread it on your face all over softly following skin texture.
Pat lightly to make it absorbed in the skin.
Product info.
Brand : The Face Shop
Volume : 45 ml
Made in Korea

THE FACE SHOP THE THERAPY Oil Drop Anti-Aging Serum 45ml
Recently Viewed Products
You can go to your viewed items