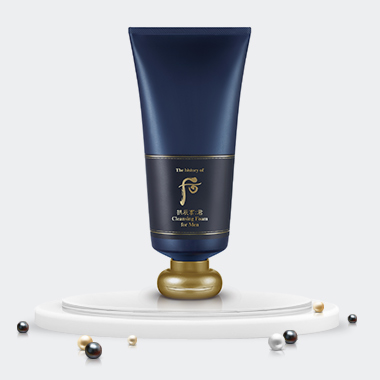 - THE HISTORY OF WHOO Gongjinhyang Kun Ja Yang Foam Cleanser 180ml
- Based on the oriental Korean medicine for- mula used in the royal court, this foam clean- ser counters the causes of skin aging at the source to make healthy skin.
- Pure gold in- gredients help to deeply cleanse skin pores while unique oriental formula reduces men&apos's skin problems to maintain a radiant and clear skin for a long time
- It is a foam cleanser for men of royal court oriental medicine that removes impurities from skin and pores to maintain healthy and elastic skin.
- It has excellent antioxidant effect and gives vitality and vitality to the skin.
- After moistening your face with water at an appropriate temperature, take an appropriate amount and rub evenly on your face like a massage, then rinse thoroughly with cold water. (Especially, if you cleanse your face with a nourishing foam cleanser before shaving, it is easy to shave and protect your skin.)

HOW TO USE
Take an appropriate amount and rub evenly on the face as if massaging, then rinse thoroughly with water.
Key Ingredient 
* "Yongan Bullodan": Emperor's nourishing "Yongan Bullodan" is added with wild ginseng cordyceps to further reinforce vitality to maintain elastic skin.
* Green tea: Green tea, called the green empress, has excellent antioxidant effects, giving the skin vitality and vitality.
The History of Who's Gongjinhyang: Kun Line 
* Gongjinhyang: Kun is a basic skin care line for men that rejuvenates and revitalizes the skin with platinum and 'Seohoyoungjeong tea', and emperor's tea, fused by a secret formula to give a smooth surface but firm inside.
* Also It is skin care line for men with 'Wild ginseng Cordyceps sinensis', ginseng flower, platinum and pure gold ingredients, the unique anti-aging formula 'Hwalsangbo', which is inherited from the Korean royal court.
Brand Story 
* The History of Whoo collection is the modern reinterpretation of traditional beauty secrets from the Korean royal courts.
* The brand combines the benefits of Eastern herbal medicine with modern science.
* "The History of Whoo" is a luxury cosmetic product that contains the legend of the beautiful queen and the "secret" of the palace that has inherited it.
*The History of Whoo brings the beauty of the Queen to your skin!
Ingredient 
Glycerin, Myristic Acid, Butylene Glycol, Purified Water, Stearic Acid, Potassium Hydroxide, Lauric Acid, Glychol Stearate, Cocamidopropyl Betaine, Glyceryl Stearate, PEG-100 Stearate, Vegetable squalane, macadamia seed oil, hydrogenated lecithin, arachidyl glucoside, shea butter, ceramiade 3, cholesterol, dimethicone, carbomer, panthenol, polyethylene, hydroxyethyl cellulose, tocopheryl acetate, ginger extract, jujube Extract, licorice extract, clove flower extract, plum extract, apanese angelica extract, Cnidium Rhizome extract, persimmon scent extract, mandarin peel extract, fennel extract, Agastache rugosa extract, Pachyma hoelen extract, Paeony Root extract, etc.
WhooFor Man Ja Yang Foam Cleanser 180ml
Recently Viewed Products
You can go to your viewed items