COSMOS ORGANIC manufacturing facility certification

Facility Certification
Product Certification
Raw material certification

"COSMOS ORGANIC Organic Facility Certification" tells us that we have the highest international level of manufacturing and production facilities in the top 0.1%.
And Toun28's products are made in this facility and delivered to participants.

Vegan Society Official Certified Shampoo Bar

NO animal-derived ingredients
NO animal testing
NO Genetically Modified Organisms
NO cross contamination
Ingredient price 90% container price 10%.
toun28

"Toun28 Dishwashing Bar" designed for food safety, not just bowls.



The original dishwashing bar, toun28.
13249 live reviews prove it.

I've used a variety of dishwashing bars.
Turn around and eventually settle back in the Tone 28 dishwasher.
As expected, the wojo is different.
-kos***
__________________________________
I'm a researcher, so I'm sensitive to ingredients, but only toun28 is conducting pesticide tests one by ingredients. It's a few thousand won more expensive, but it's unconditionally ton28 for my family's health.
-ggu******
__________________________________

I settle for the S27. Perhaps because it uses FDA-approved edible charcoal, it feels like they care about the quality of each ingredient as well as the performance. There must be a different reason for the aid?
-tob********
__________________________________
I used to run a cafe and had eczema to the point where my hands were bleeding.
-cas************
__________________________________
It's great for removing grease. In particular, my baby doesn't eat from containers that have been washed with other detergents, but the only thing he eats is those that have been washed with toun 28.
-hue2*****   
* Actual image of toun28 dish washing bar test process
The reason toun28 made the first dish washing bar was for the safety of the family's food.


"A dishwashing bar made according to toun28 beyond the standard of first-class detergent"


Completion of 343 safety tests, the most in Korea
Antibacterial 99% certified
Arsenic, heavy metal, optical brightener, free alkali 0%
Skin irritation test completed
No preservatives, synthetic surfactants, bleaches, dyes added
USDA Organic Certified Ingredients
All raw materials tested for pesticides
All raw materials tested for heavy metal components

A dishwashing detergent made with hundreds of safety certifications, or a dishwashing detergent made with no safety certifications or only a few, which would you choose for your family?

Are you using the dishwashing detergent directly on the scrubber?

The correct usage of liquid dishwashing liquid is the same as Rox diluted 1.5ml dishwashing detergent in 1 liter of water.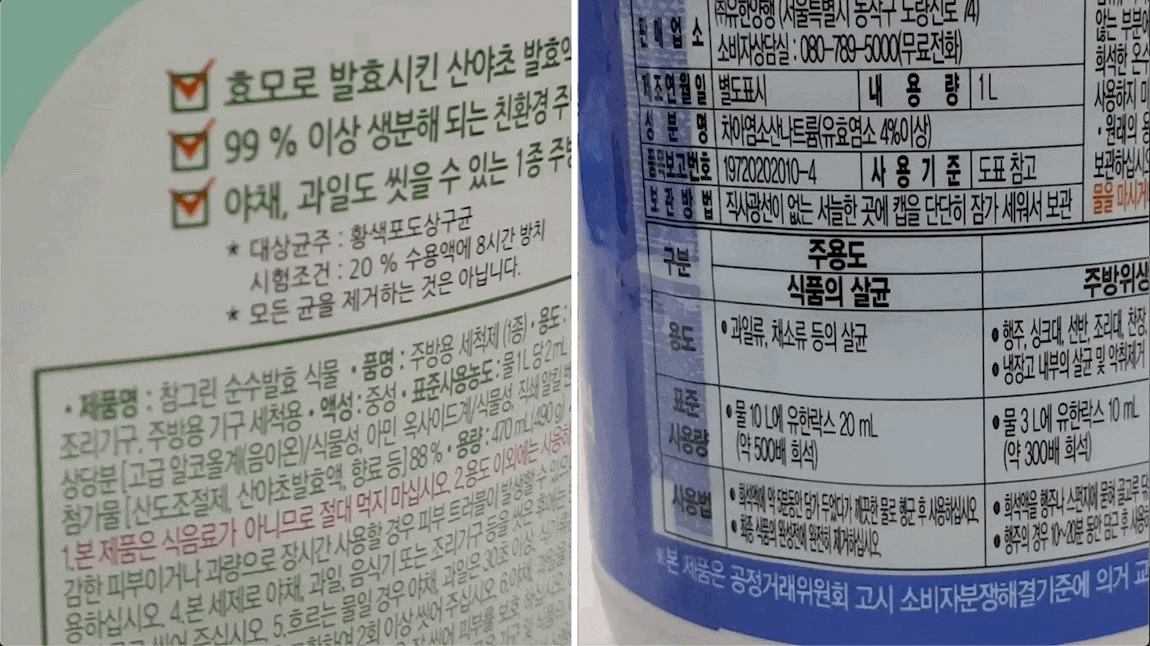 Dishwasher: 2ml diluted in 1 liter of water
Rox: 3 ml diluted in 1 liter of water (approximately 100 times diluted)
Don't worry about residual detergent
Now, with peace of mind, all dishes and food are safe

343 safety tests completed with actions, not words
Not a single toxic ingredient is allowed.

toun 28 dish washing bar
<<A first-class solid detergent without preservatives>>
No matter how much one-class dishwashing detergent is, the addition of preservatives is inevitable if it is liquid.
Made with safe food ingredients

Real organic / pesticide-free raw materials are selected and used after verification

It is used after aging 1,000 hours of real organic food raw materials, not grain raw materials used for industrial products.
3 Fine foam that pulls and washes perfectly even with a small amount of oil Features Tone 28 fine foam that does not collapse and has firmness



The Tone 28 dishwashing bar cleans up fine grease stains from the dishes with its hard density and adsorption power over time.


Foam created with 2g each detergent
Ton 28 detergent foam
Company A detergent foam

10 times the foaming power of liquid detergent
toun28 does not dilute raw materials.


Completed 343 safety tests, the largest number for dishwashing bars in Korea, 320 types of pesticides 0 detected


*20 kinds of chemical ingredients free of harmful ingredients such as arsenic, heavy metals, optical brightener free alkali, etc.


*Antibacterial 99% certified Staphylococcus aureus, Escherichia coli, and Pseudomonas aeruginosa, which are easy to propagate in a kitchen environment, have been tested for a reduction rate of 99%


Staphylococcus aureus.

E. coli.

Pseudomonas aeruginosa.
Chemical                        1-class                  low-irritant          certified 
ingredient-free       kitchen detergent            to skin           antibacterial, 
                                                                                            99% certified


We do not tolerate even one, even one lg of pesticide ingredients that even a first-class detergent may have 
Detergent standard <Food standard 
28 tons of dishwashing bar designed from the beginning, uniquely, for overall food safety
I think it would be reasonable if we could invest a little more in buying pesticide-free and organic food to feed our babies with safe products and wash all the food, including the bowl, safely.

toun28 minimum standard for washing dishes
Certificate of washing dishes without irritation than water
Skin hypoallergenic certification

toun28 Dishwasher No.13
Washing dishes using other detergents 13 times

toun28 self-test

Do you see?
1. It has passed the skin non-irritation test and does not irritate the skin when used.
2. Glycerin, a moisturizing ingredient, is naturally generated when used.




Skin irritation test completed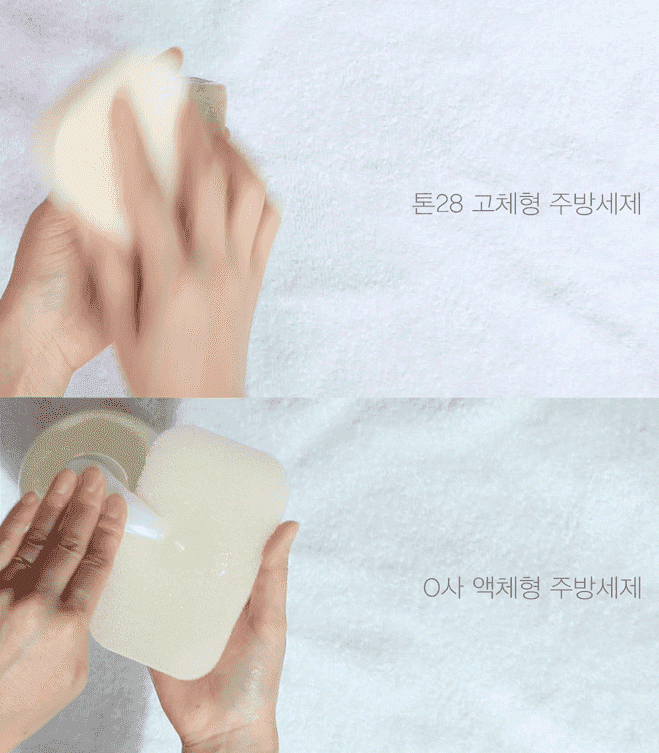 S26 Five grains + rice
Whole organic five grains are soaked and manufactured by low-temperature aging method. Five-grain rice water contains a large amount of origenin peptide and vitamins B1 and B2 that promote collagen synthesis.
The Actual organic five grains are aged for 1,000 hours.
Soft and breathable dishwashing foam




Detergent power to cleanly wash away grease from dishes


Magnetic holder to keep it clean without water stains
We act for health and the environment.
FAQS
Q. It's a solid soap, but is it a first-class dishwashing detergent?
A. Yes, it becomes a first-class dishwashing detergent.
In accordance with the Sanitary Product Management Act guide, we completed the item manufacturing report with a first-class cleaner.
Class 1 Kitchen Cleaner Report Complete and Report Number
S26: 20189096001-3 / S27: 20189036001-2 / 528: 20189036001-7
Q. Doesn't scale form after washing the dishes?
A. When scale (white stain) occurs, various metal ions in the water react with the fatty acids in the soap to form a complex compound.
So, I usually use a chemical method that contains a sequestering agent to prevent scaling, but toun 28 dish soap does not have a sequestering agent. Because of its philosophy of minimizing chemical methods.
To prevent the formation of complexes, it contains edible baking soda rather than chemical methods to absorb metal ions and soften the water.
After washing the dishes, the water looks cloudy, but there is no scale.
Q. What is the capacity of the dishwashing bar?
A. The solid kitchen washable products have a capacity of 120g before drying and 100g after drying.
It can be used for about 1 month based on 4 people per one.
* In the case of CP formulation, as the purified water dries over time and undergoes a neutralization process, the weight may decrease the longer it is stored. This is a natural saponification reaction, so you can use it with confidence.

Q. What is the shelf life and expiration date of solid kitchen detergent?
A. The shelf life is 36 months from the date of production, and the expiration date is 12 months after opening.
Q. What is the difference between each of the 4 dishwashing bars?
A. In S26, five grain ingredients help to moisturize bare hands after washing dishes.
In S27, the charcoal ingredient is effective in deodorizing food odors.
S28 is a healthy foam of berry extract, excellent for removing oil.
S29 uses natural ingredients such as grapefruit and ginger to help wash dishes with confidence.
Q. Is it possible to wash baby dishes?
A. It can be used on all dishes and can also be used as a baby bottle detergent.
toun 28 solid dishwashing detergent is safe because it contains neither surfactants nor preservatives, so you can use it as a baby bottle cleaner.
If you rub it a couple of times on the sponge part of the baby bottle brush, it foams up well, and you can rinse it off with plenty of running water.

Q. Can I wash dishes with bare hands without rubber gloves?
A. Since this product was developed for the purpose of washing dishes with bare hands, it is possible to wash dishes with bare hands without rubber gloves, and it can be used for washing hands and washing dishcloths other than washing dishes.

Q Should I wash only with water suitable for drinking?
A. The indication for use of solid detergent is the same as that according to the safety standards of the Ministry of Health and Welfare, and tap water also belongs to drinkable water. So, rest assured, when washing dishes or washing fruits and vegetables, you just need to rinse thoroughly with tap water.

Q. I am concerned about the growth of bacteria in the dishwashing bar.
A. In the case of dishwashing bars, which are solid detergents, many tests were conducted with various prescriptions to keep foam, cleaning, moisturizing, and firmness while making food ingredients. There was no cooling.
Dry it in a well-drained place.

Q. Can I use the dishwashing bar to remove pesticide residues on vegetables/fruits?
A. Yes, it is possible to remove pesticide residues from vegetables and fruits.
Please use it according to the specified usage standards and usage method.
"When using the product by dissolving it in water, do not soak vegetables or fruits for more than 5 minutes.
After washing vegetables, fruits, dishes, or cooking utensils, be sure to wash them with drinking water.
When using running water, wash vegetables or fruits for at least 30 seconds, and when using running water, change the water and wash at least 2 times.

Q. Where is the origin of the raw materials such as organic five grains, rice and oats used in the dishwashing bar?
A. We will inform you of the country of origin and certification number for the above materials.
Rice 5-6-149 (formerly 1-6-15) Origin: Korea
Brown rice 5-6-149 (formerly 1-6-15) Origin: Korea
Black rice 5-6-149 (formerly 1-6-15) Origin: Korea
Perilla 5-6-139 (formerly 10-6-48) Origin: Korea
Yak Bean 5-6-139 (formerly 10-6-48) Origin: Korea
Millet Rice 5-6-139 (formerly 10-6-48) Country of Origin: Korea
Oat 14600052 Origin: Korea
Charcoal Origin: Sri Lanka
Soapberry Origin: India
Grapefruit Origin: England
Ginger Origin: Korea
TOUN28 S26 Organic Five Grains+Rice Dish-washing Bar 100g
Recently Viewed Products
You can go to your viewed items