[IDEAL FOR]
For all skin types
For soothing and calming irritated skin

[INGREDIENTS/MATERIAL]
Madecassoside: Has anti-inflammatory properties that aid skin healing
Nymphaea Alba Flower Extract: Contains beneficial substances that provide a strong nourishing, moisturizing, and regenerating effect on the skin
Aloe Vera Leaf Extract: Promotes skin healing, helps calm irritation, and moisturizes the skin

[FEATURES]
A mild acidic soothing toner that restores moisture and balance to the skin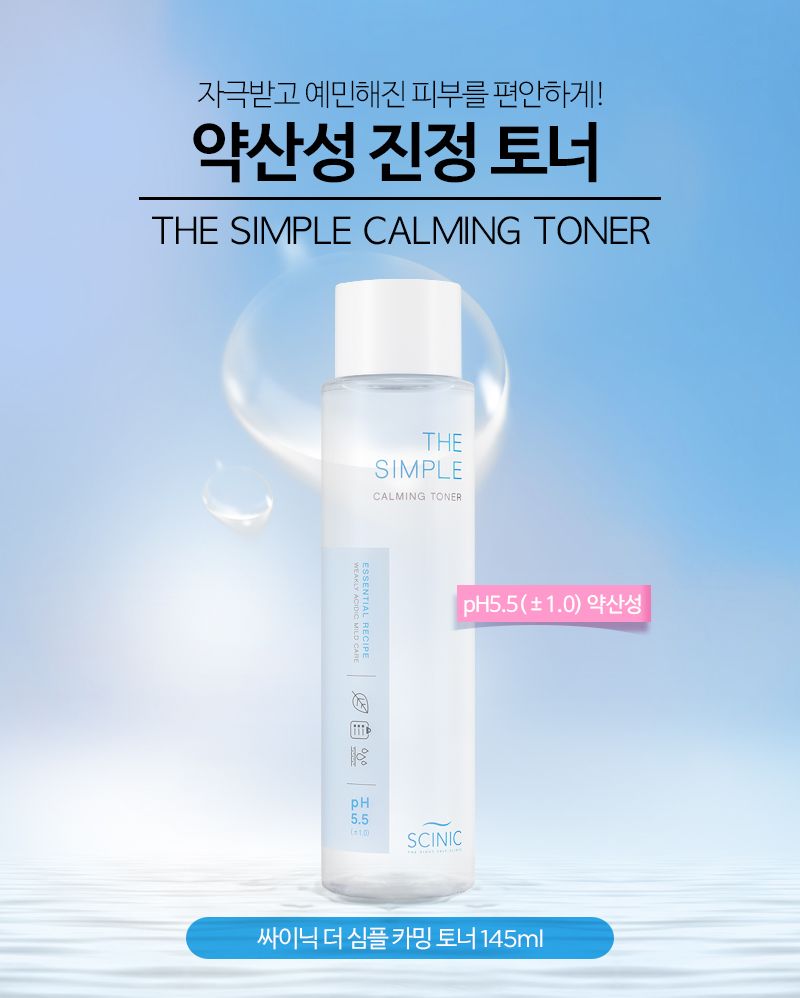 A simple soothing toner that soothes the skin

moisture soothing toner
Cools and soothes sensitive skin

Hypoallergenic, slightly acidic care
A mild solution that does not burden the skin

Soothes and protects the skin
Comfortably protects irritated skin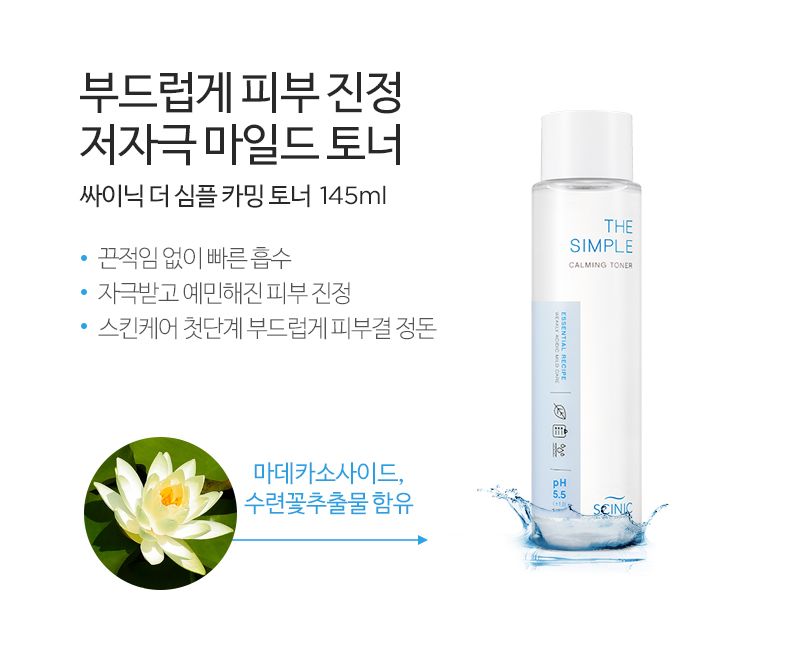 Gently soothe the skin
hypoallergenic mild toner

Scenic The Simple Calming Toner 145ml

- Fast absorption without stickiness
- Soothes irritated and sensitive skin
- The first step in skin care, gently prepare the skin texture

madecassoside,
Contains water lily flower extract
Moisture-filled watery toner
A feeling of light penetrating into the skin

The water-type texture quickly and lightly penetrates into the skin, gently soothing the skin and completing a moist and supple skin texture.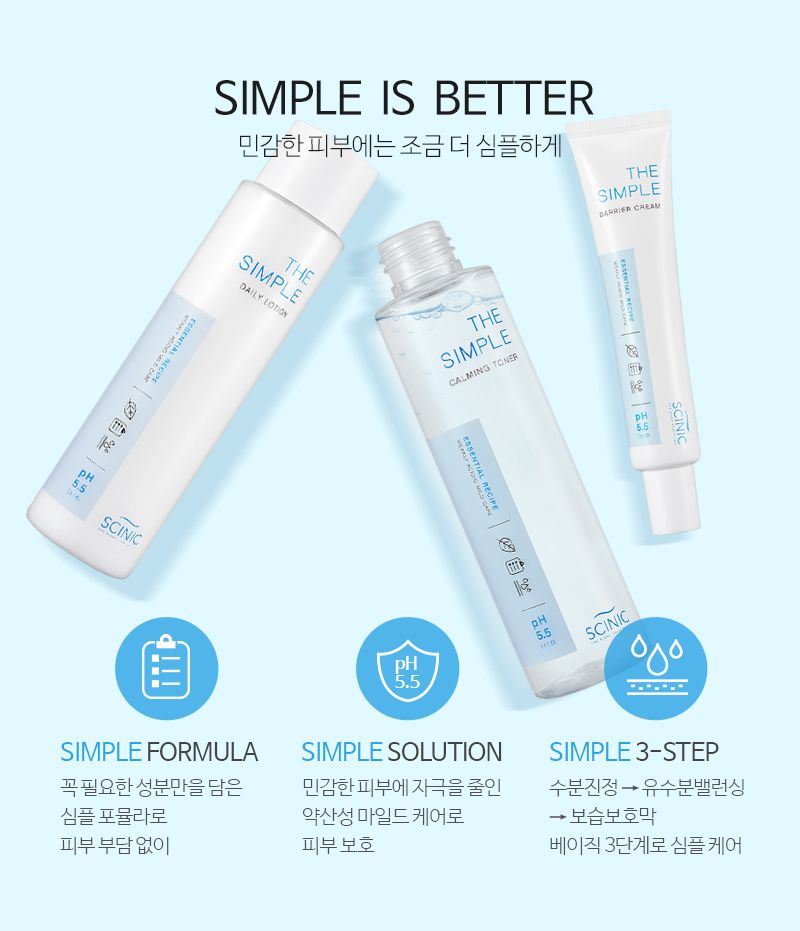 SIMPLE IS BETTER
A little simpler for sensitive skin

SIMPLE FORMULA
A simple formula that contains only essential ingredients without burdening the skin

SIMPLE SOLUTION
Protects skin with mildly acidic mild care that reduces irritation to sensitive skin

SIMPLE 3-STEP
Moisture soothing → Oil-moisture balancing → Moisturizing protective film basic 3-step simple care
Slightly Acidic Mild Solution
The secret to healthy skin pH5.5

A healthy skin surface is protected by a protective film of pH 5.5 ~ 6.0. Use a weakly acidic product to maintain the skin's pH balance.

Check weak acidity with pink litmus paper
If it turns blue, it is alkaline.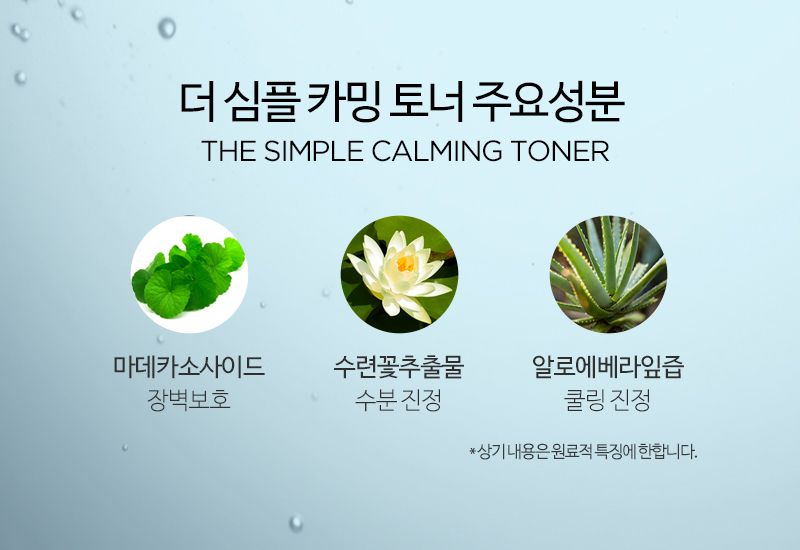 The Simple Calming Toner Main Ingredients
THE SIMPLE CALMING TONER

Made Casso Side
barrier protection

water lily flower extract
moisture soothing

Aloe Vera Leaf Juice
cooling soothing

* The above contents are limited to the characteristics of raw materials.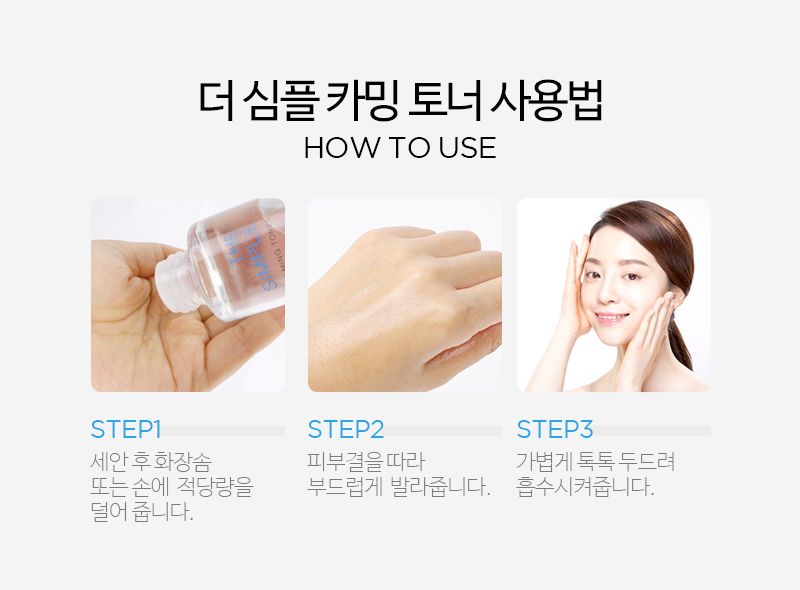 How to use The Simple Calming Toner

STEP 1
After washing your face, apply an appropriate amount to a cotton pad or hand.

STEP2
Apply gently along the skin texture.

STEP3
Tap lightly for absorption.
SCINIC The Simple Calming Toner 145ml
Recently Viewed Products
You can go to your viewed items