Our best-selling eye cream is very mild and vitamin-rich. Featuring Avocado, Damask Rose and Orange Flower, it smooths, prevents premature ageing, and is quickly absorbed by the delicate skin around the eyes.

This super gentle and highly effective eye cream by Martina Gebhardt refreshes and cares for the sensitive skin around the eyes. It is 100% natural and Demeter certified, and is easily absorbed without leaving a greasy film, leaving skin velvety soft.
This extra gentle eye cream is ideally suited for aging and sensitive skin. Martina Gebhardt eye cream 
contains pure avocado oil;
smoothes fine lines and wrinkles;
is easily absorbed;
soothes tired puffy eyes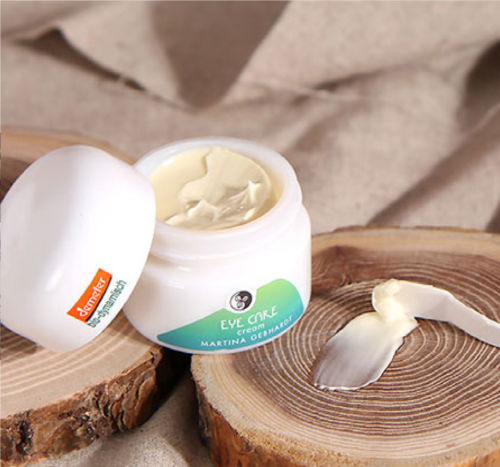 Eye care cream is an eye contour day balm for all skin types.
The delicate skin around the eyes quickly absorbs this very mild and vitamin-rich avocado oil. Helps keep the skin smooth and elastic and prevents premature wrinkling. Unlike the previous ROSE Eye Care Fluid, Eye Care Cream and Eye Care Fluid contain no essential oils and are therefore less riskfull for allergic reaction of the sensitive skin around the eyes.
This extra gentle organic eye cream soothes and refreshes the delicate skin around your eyes without leaving a greasy film. The velvety soft and complete natural moisturizer is designed to nourish and protect the more sensitive skin tissue around the eyes and to smooth fine lines and wrinkles. Martina Gebhardt Eye Care Cream has quickly become one of our most popular moisturizers in the Martina Gebhardt organic skin care line.

Alternative Use: The product makes an excellent intensive treatment to smooth wrinkle prone skin on face, neck, and upper lip.
Martina Gebhardt Eye Care Cream contains pure organic avocado oil, rose hydrosol, orange blossom water, and shea butter as principle ingredients. Ingredients are sourced from Biodynamic farming or other certified organic sources and the product is free of parabens, mineral oils, and GMO's. The eye moisturizer is a certified Biodynamic organic skin care product and received the prestigious Demeter eco–label.

INCI

Water (Aqua), Olea Europaea (Olive)Seed Oil**, Persea Gratissima (Avocado) Oil*, Lanolin, Rosa Damascena (Rose) Flower Water**, Citrus Aurantium Amara (Orange) Flower Water*, Cera Flava** (Beeswax**), Butyrospermum Parkii (Shea) Butter*, Theobroma Cacao (Cocoa) Butter**, Tocopherol, spagyrische Essenz von Rosa Damascena Flower**, Aurum, Argentum, Sulfat


Ingredients
English version. Water, olive oil**, avocado oil*, woolwachs, Damascus rose hydrolat**, orange flower hydrolat*, beeswax**, shea butter*, cocoa butter**, vitamin E, spagyric essence (of Damascus rose flower**, gold, silver, sulfate) ** Demeter-certified * from certified organic agriculture ° Component of genuine essential oils


Production
The quality of skin care products depends primarily on the freshness of the raw materials and the methods that are used for processing these materials. Martina Gebhardt uses the freshest herbs and oils. Demeter certifications stands for the holistic, dynamic, rhythmic approach, the strictest quality criteria and the highest quality it ever was for natural cosmetics. The Woolwax, named "Lanolin" in the INCI, is produced by a washing and centrifuging process that results in a practically pesticide-free substance.


Properties
All cosmetic products should be applied sparingly, nurturing rather than inhibiting the skins' own functions.
Use in preference a spatula for the creams and ointments.
Avoid temperatures above 25°C and below 2°C. In creams heat can generate a small deposit of oil. This does not diminish the quality of the cosmetic and disappears when remixing the cream.
On Martina Gebhardt website stands that all products should, when possible, be used within 3 months after opening. Under normal hygienic use, this delay can be largely exceeded without problem but if a long period without almost daily use occurs it is advisable to keep the product fresh.
How to use

Use a small amount of this concentrated product after cleansing and hydrating. Dab gently around the eye contour area.
MARTINA GEBHARDT Eye Care Cream 15ml
Recently Viewed Products
You can go to your viewed items