Fillimilli Dual Concealer Brush 810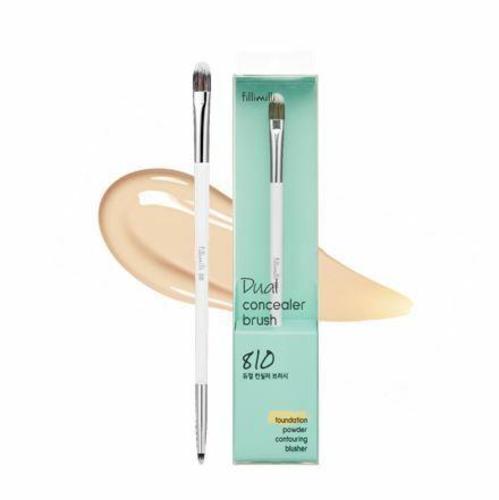 Product Details
It is a dual type brush that covers from large spots to small spots in detail depending on the size. 
Also, the strong and flat brush's fur is thin and uniform, helping to cover it with precision and adhesion. 

Suggested Use
Broad parts : Spread in accordance with the skin texture, and the pat to end. 
Less blemishes on her face in the face : a small part to carefully by tapping the cover.
IDEAL FOR
Those who want to conceal blemishes and imperfections
Those who want to be more precise with their makeup application
INGREDIENTS/MATERIAL
Has dense bristles made from soft synthetic hair
Comes with an ergonomic design with its wooden handle
FEATURES
Dual-type concealer brush that covers large and small areas with dark circles and blemishes
Can be used with liquid and cream foundation
Helps build and blend coverage
Size
 : 
170mm
A dual-type concealer brush that meticulously covers from dark circles to blemishes!
POINT 1
Dual brushes that can be used according to size
A dual-type brush that precisely covers large and small spots depending on the size.

POINT 2
Close-fitting cover with strong flat bristles
The strong and strong flat bristles apply thinly and evenly to cover closely.

POINT 3
All-purpose brush that can be used with any concealer
A multi-purpose brush that can be used for all concealer formulations such as liquid, cream, and stick 
 
HOW TO USE
Wide elastic hair
Apply according to the skin texture and lightly tap the border to finish.

Hair for narrow spots
Cover blemishes by tapping them gently.
For daily use
Dual Makeup Brush Cleaner
Easy to brush off with a sponge

brush cleansing tissue
Wipe with tissue without washing with water

Once a week
Makeup Brush & Puff Cleanser
Meticulous deep cleanser
Fillimilli Dual Concealer Brush 810
Recently Viewed Products
You can go to your viewed items